PACK EAGLE JACKET WITH PENDEJO HELMET AND LA VISION VEST
COMPLETE PACK OF HELMET, VEST AND JACKET FROM ICC
Pack description
Yes, you've just seen it and you're saying to yourself: "Seize the opportunity...". Take a chance. If you are looking for a biker pack this is yours: the new Pendejo IMF Blue Style helmet, the new L.A. VISION vest with hidden reflectors and our classic Eagle jacket are saying "take me home".
Pack content
PENDEJO JET HELMET BY IGUANA BLUE IMF STYLE
---
Casco jet PENDEJO by Iguana Custom Collection
APPROVED ECE
Interior in simile with embroidery, black embroidery, and chromed brackets
Back hook for holding glasses.
Three size of bed-size according to size for a larger fit
Micrometric closure
Tallas from the XS to XL
Features of the JET Pendejo Red Classic helmet.
Different types of shields and visors can be fitted.
Thanks to its 3 different shell sizes it adapts perfectly to your head.
It is available in several different finishes.
Data sheet
COLOR

Blue

FINISH

Shine

MATERIAL

Injected

APPROVAL

ECE 22.05
ICC L.A. VISION VEST WITH REFLECTIVE BACK PROTECTOR READY FOR BACK PROTECTION
---
At Iguana Custom we are totally committed to safety. That is why we have designed, developed and manufactured this biker vest made of high quality genuine cowhide leather. The main safety innovations we have developed are:
Space to place back protection (not included).
Hidden and easily removable reflective straps.
High-abrasion-resistant cowhide leather
As safety should not be at odds with design, we have incorporated several details, such as its incredibly attractive lining with Old Style tattoo designs on a spectacular orange fabric. For added convenience we've included a vest extender so you can wear it all year round, whether it's in the summer or to layer it seamlessly over your winter jacket. The extender is also perfect for those days when you've eaten a little too much or if you've "grown" a couple of sizes. Plus, you can easily store it in the back pocket that gives you access to the suspenders and protection.
Other no less important features:
2 chest pockets
2 side pockets
Vertical zippered pocket on the inside of the lining
Horizontal Napoleon pocket on the other side of the liner
Belt loops on both shoulders
Belt loops on waist
Seamless back for your patches
Data sheet
COLOR

Orange

COLOR

Black

MATERIAL

Skin

COVER

Fixed

PROTECTIONS

Prepared (not included)
LEATHER JACKET AGED EAGLE WITH PROTECTIONS CE
---
Jacket in old leather with retro style, model AGUILA by Iguana Custom Collection
Great value for money!
Made in strong leather of first quality with aged treatment, with removable thermal inner lining.
Includes all CE approved protections, included and removable.
Thermolite lining, removable. This allows you to use the bike much longer being very warm in winter and cool in summer.
Pockets inside and outside.
Attention the color of the leather is black and aged treatment is in seams, the color may vary due to manual treatment!!!!
"Product Iguana maximum quality at the best price".
Note: Includes homologated protections level 1 in elbows and shoulders and not homologated protection in back. If you want to replace these protections by a level 2 approved protections to improve the safety of your jacket. Add the pack of level 2 protections with this jacket and it will cost you 25 euros.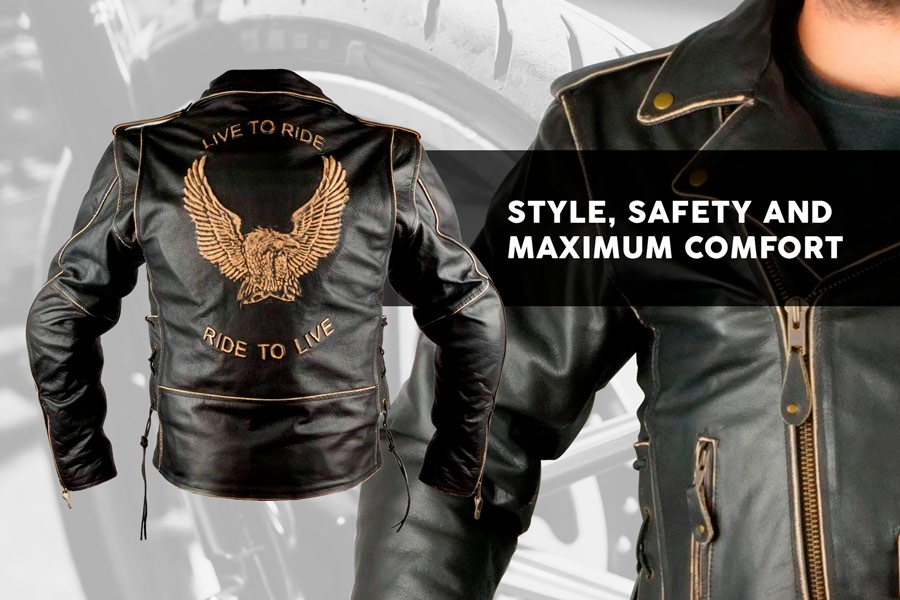 Data sheet
COLOR

Black

COLOR

Brown

MATERIAL

Skin

GENRE

Man

COVER

Detachable

PROTECTIONS

Including

STATION

Winter

STATION

Halftime