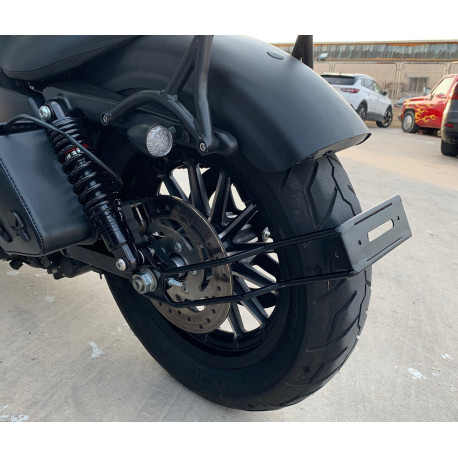 Specific registration rear support for Sportster or universal applications, comes ready with the gaps for the damper and also with some added ones for if you want to engage intermittent.
Valid for almost all of the Sporster and universal application for most   motorcycles
Handmade handcrafted entirely   in Spain with ultra-resistant satin black oven paint.
Cristian on 2022-03-19 19:59:19

Question:

Una duda , se puede homologar? A la hora de pasar el itv si pides una homologación para este soporte lo pasan ? Muchas gracias

Answer:

Lo que hay que homologar es el cambio de posición en la moto, para esta reforma el soporte no necesita tener ninguna homologación.
Luke on 2022-01-25 10:58:53

Question:

Does this product fit the 2012 48 sportster please and what is the difference between the lower priced holder of same design

Answer:

The difference is that this is specific for Sportster due to the shock absorber hooks, the other support must be machined to be able to place it on this bike.
MIGUEL on 2021-03-04 10:43:20

Question:

El soporte de matricula, ¿Qué medidas tiene? Mi moto no es una sporster, pero es parecida, es una Yamaha XV950 y necesitaría saber las medidas para saber si me encajaría.

Answer:

Este soporte tiene uno huecos especiales para la Sportster que no van bien para tu moto, para la XV950 es mejor usar este otro soporte

https://www.iguanacustom.com/es/soportes-de-matricula/3284-soporte-matricula-universal-negro.html
Customers who bought this product also bought: